As a federation & tournament admin, you need to draw brackets for categories/divisions. In this article, we will give the steps to follow.
Instructions
1. Go to mynextmatch.com and provide your login details to continue.
2. From the user menu located on the upper right-hand side of anywhere in the system, click the settings icon next to your federation name to switch the federation dashboard.
3. Click Events from the side menu.
4. Click the edit icon or view the public page of the tournament and click the Manage to view the management dashboard of the tournament.


5. Click Management > Live Tournament > Bracket.

On this page, there are a division list (C) with approved participants (D) count and participants count who have completed check-in (E), weigh-in (F), medical examination (G). You can select a division from the dropdown list (A) or division table (C) and bracket type (B) to create a bracket.
6. Select a division and bracket type. Then click "Create Bracket".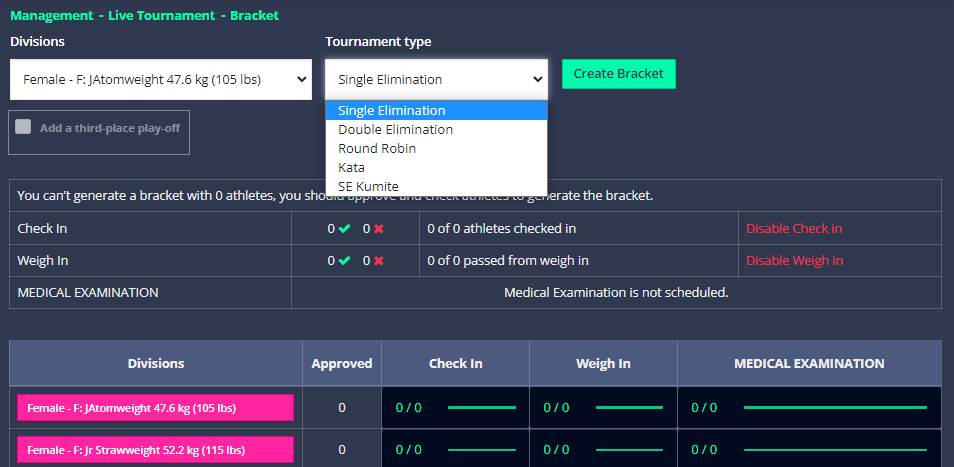 Notes:
If you add an event to check-in/weight-in/medical examination and If you draw brackets before this event, you need to click "Disable Check-in/Weight-in/Medical Examination to create a bracket.
If there are no approved participants, you cannot create a bracket.
If you want to add a third-place match, check "Add a third-place play-off".
In the MNM Tournament system, Single Elimination ( for MMA & Kumite), Round Robin with/without a group and Judge Points/Vote (Kata) are available. Double Elimination will also be available soon.
6a. Let's start with Single Elimination.
- When you select Single Elimination, you will view the division bracket page with settings. You need to set the rules before drawing.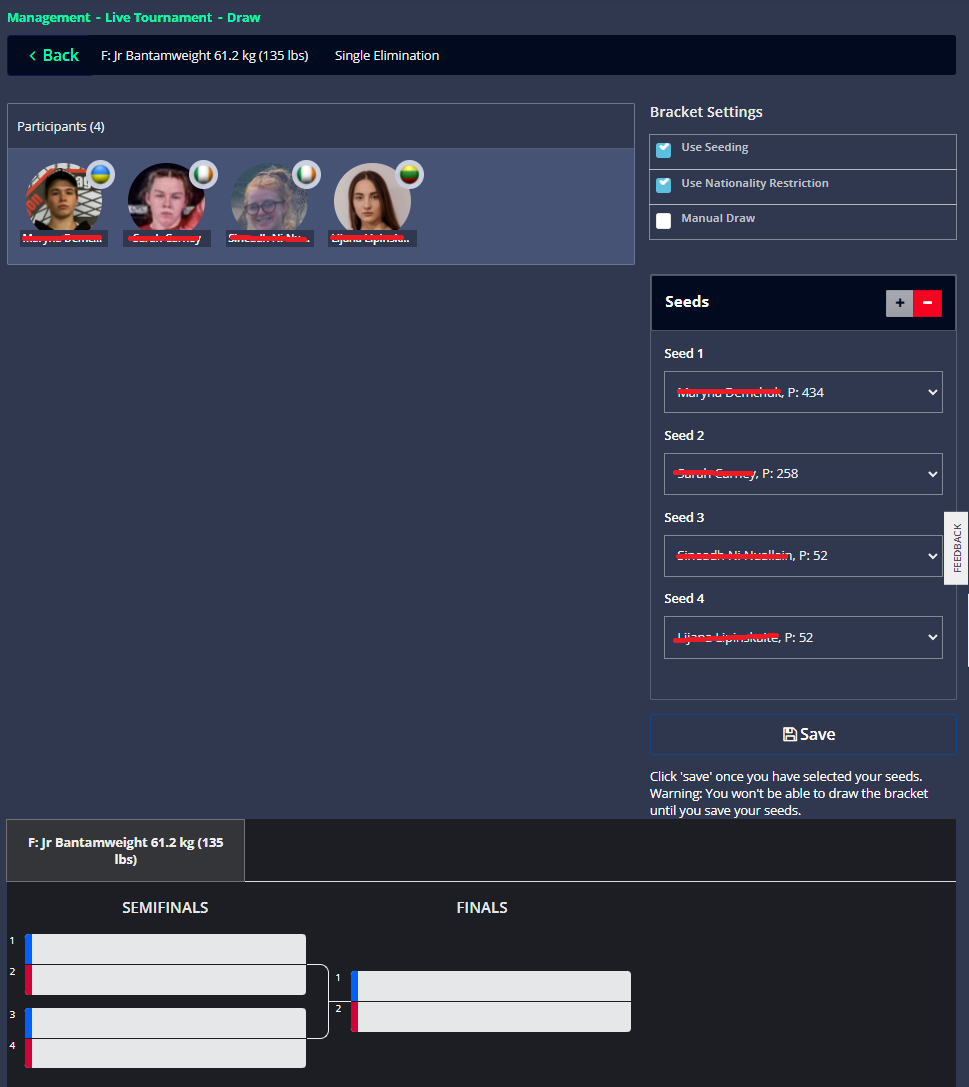 About settings;
If you will use the seed rule, check "use seedings" and decide the seed number. The system presents seeds according to ranking point automatically, you want to change the order and participants.
If you check "use nationality rules", two participants from a country will not meet until the final match except in exceptional scenarios.
If you check "manual draw", you will be able to place athletes to matches manually.
- Click "Save" to save settings and then "Draw Bracket" to complete the process.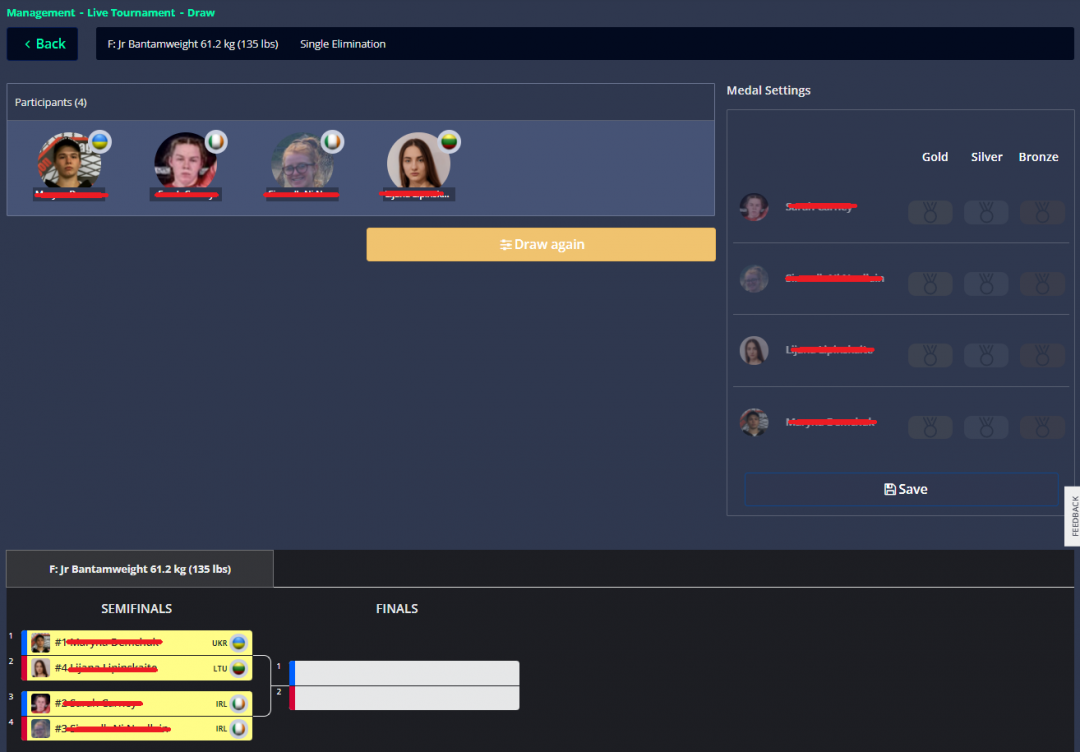 - Then, you will see the matches at the bottom of the page.
Note: You need to use "Single Elimination"(SE) for MMA and "SE Kumite" for Kempo and Karate Kumite to set a suitable match scoring system.
6b. Round Robin with/without groups
- When you select Round Robin (RR), you will view the division bracket page with settings. In RR, bracket settings and seeding work as in SE. The difference between RR & SE settings is the group settings.
- If you want to split the participants into elimination groups, the division should have at least 6 participants. If it has less than 6, you will see a warning message in the settings: "There are not enough participants to create groups, the division should have at least 6 participants.". If you have enough participants, the system offers you available group numbers and you can decide entries for the last round, SE according to the participation number.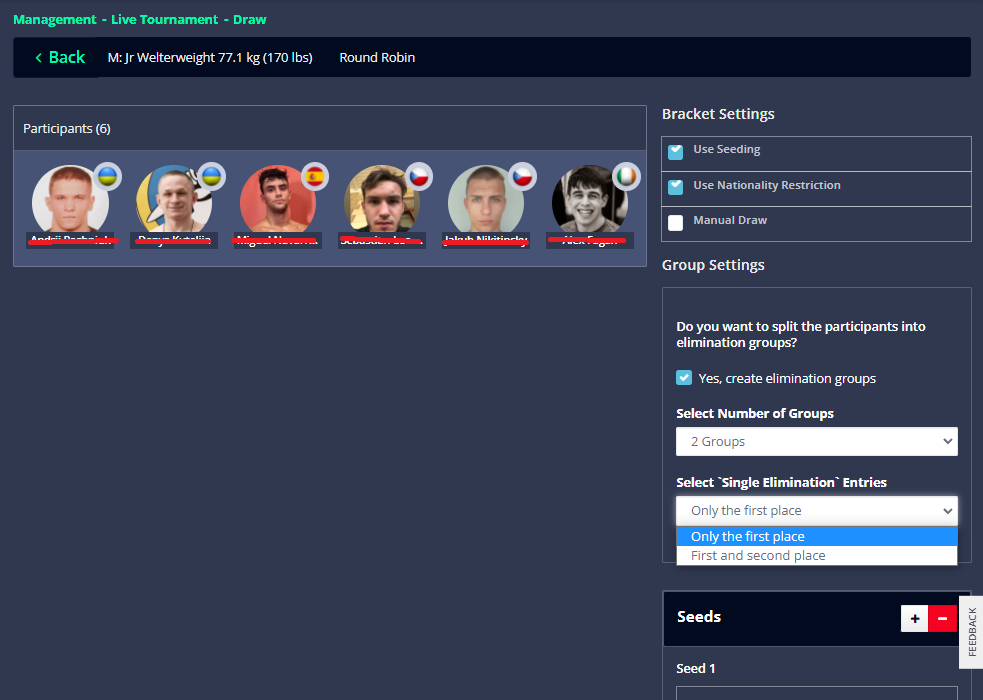 Set the rules and click "Save", "Draw Groups"(only for elimination group is active), "Draw Bracket" in order.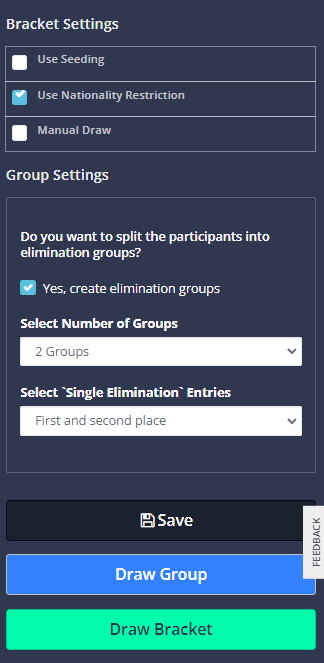 You will see the RR groups, SE Round and division standings on the bottom of the page.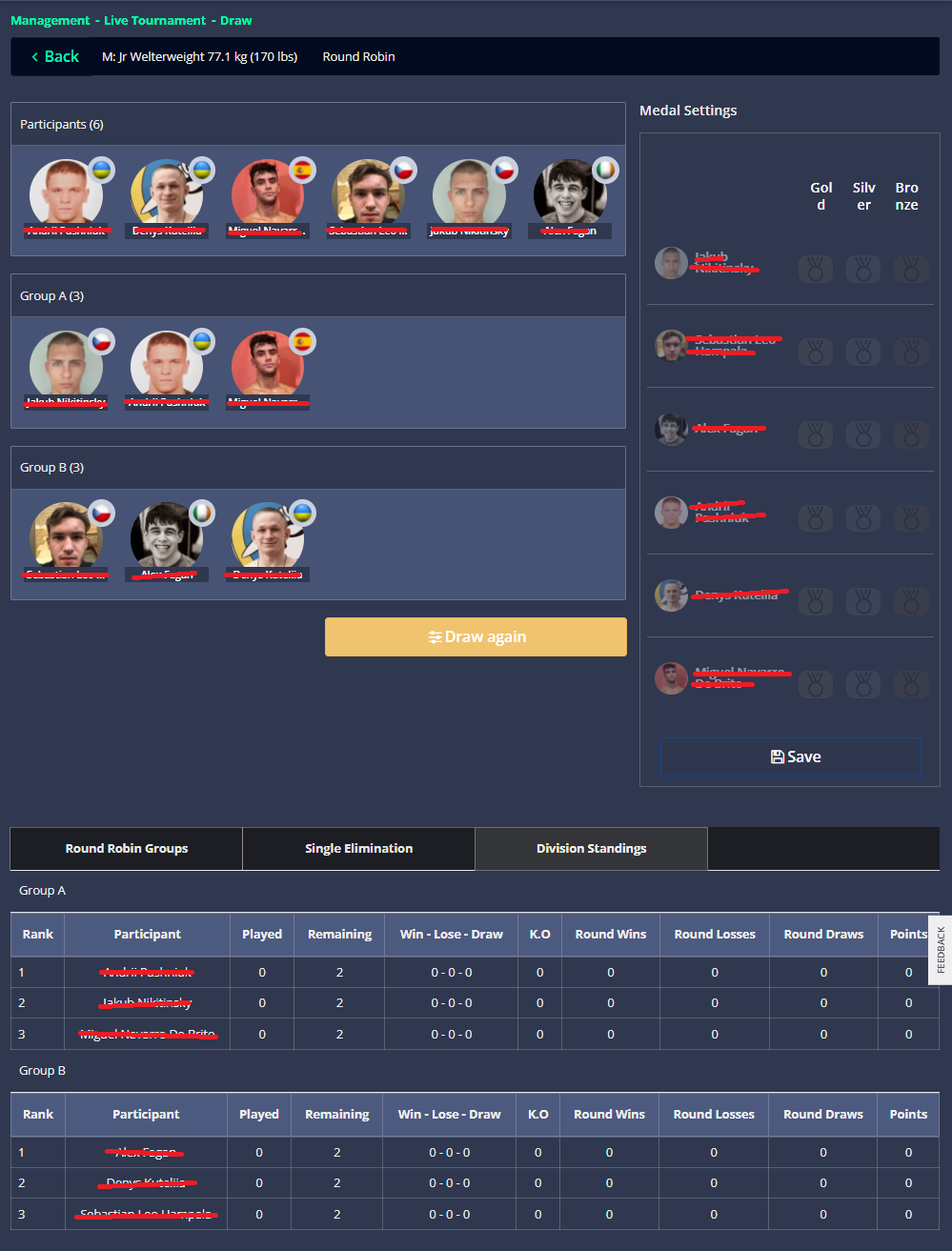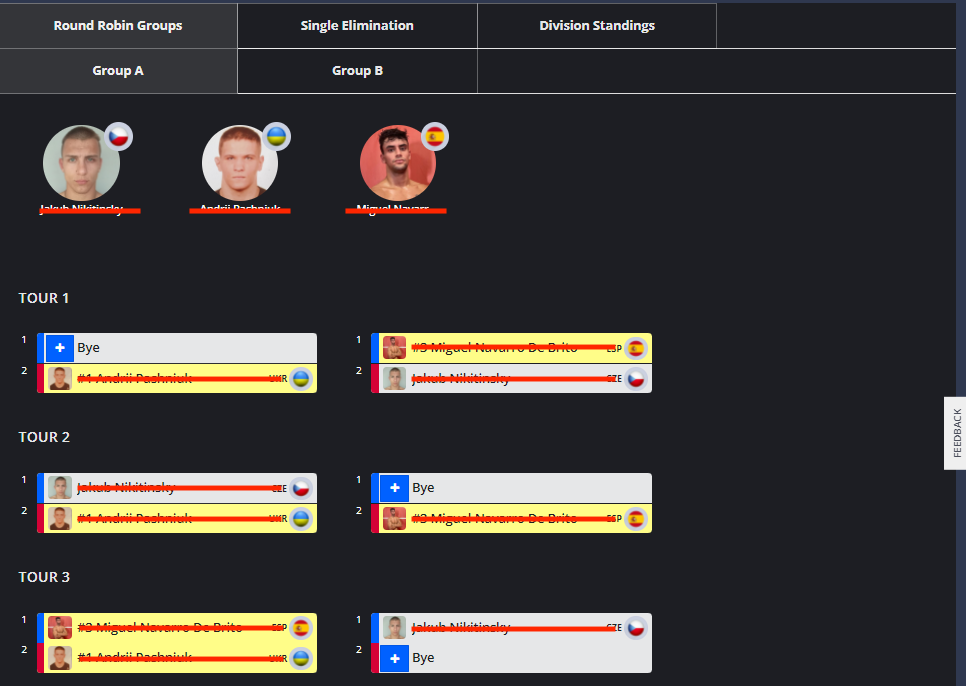 Participants of the SE round are assigned after all matches of RR are completed according to their standings.
6c. Judge Pointing/Vote (Kata)
When you select Kata, you will view the division bracket page with the judge number setting. Select the judge number and "Save" it.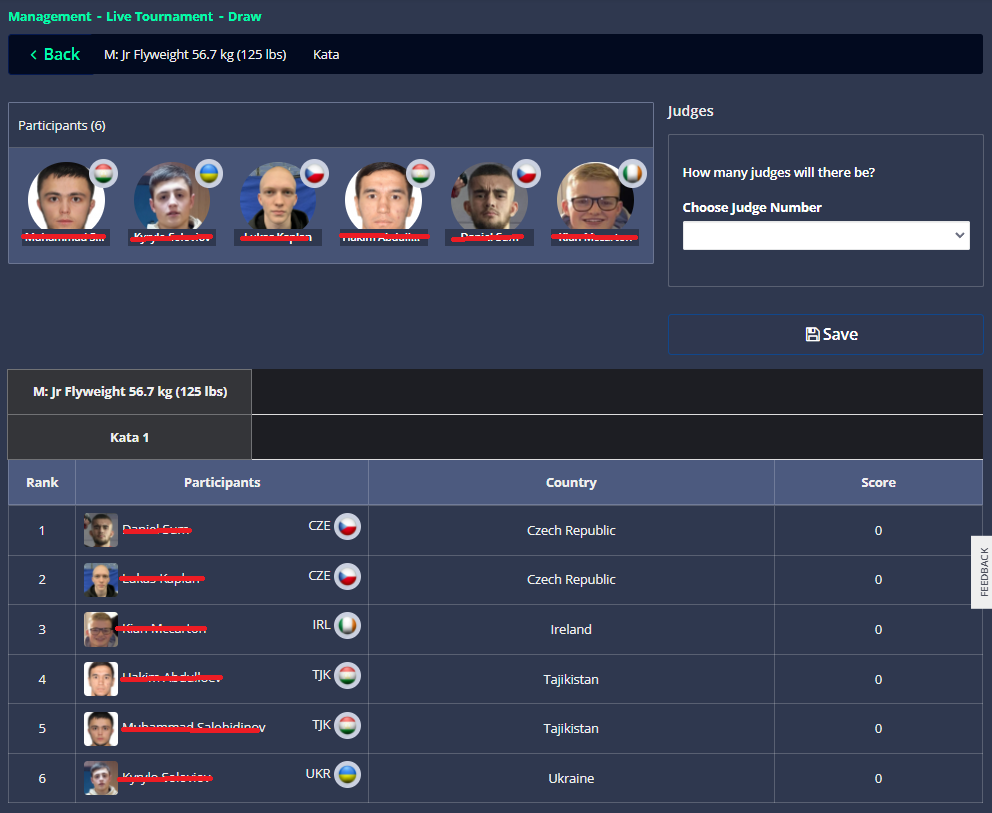 7. "Medal settings" on the right side of the page. If automatic medal distribution is open, you can follow the results from this section simultaneously. If it is not open, you can distribute medals manually from this section:
In addition to that, you can redraw or update the settings of the bracket via "Draw again". If you redraw, all match results, fixture and assignment data will be reset.